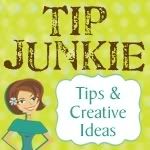 I have been following Tip Junkie for a few months now ... ever stop into Tip Junkie?
There are always seasonal ideas for the crafter, cute boutiques to browse though and I am loving the tips featuring Moms! We all lead incredibly busy lives, and it is nice to see what other creative Moms are doing in ALL of their FREE time. ;-)
You'll have to check out her
Mom-preneur Shop-a-thon! Laurie had a brilliant idea and has offered her readers the opportunity to buy from creative Women this holiday season. Any why not? Swanky Paper is one of the fabulous features shops!